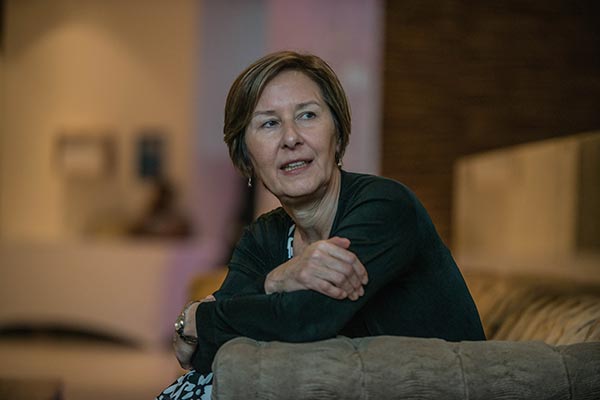 Deborah Brautigam. [Photo by Mujahid Safodien/China Daily]
Deborah Brautigam has that rare distinction of being regarded as the leading expert in her field.
Over the past three decades she has devoted herself to the study of China-Africa relations.
Somewhat fortuitously for her, during this time the subject has grown from something of an academic backwater to one of major international interest with China's economic engagement with the continent growing almost exponentially.
The US academic was therefore in her element in Johannesburg recently ahead of the Second Summit of the Forum on China-Africa Cooperation when she launched her latest book, Will Africa Feed China?, at the Crowne Plaza Hotel in the Rosebank district of the city.
Brautigam, who is director of the China Africa Research Initiative at John Hopkins University in Washington, says many still misunderstand the relationship, often seeing China as a new colonial power.
"There are still a lot of myths. I think amongst the better publications, The Economist, Financial Times and even The New York Times have got better but you still find quite a lot of fairly poor journalism," she says.
"Even academics just collect a bunch of information from the Internet and don't sift through it very well to figure out what is real and what isn't. If you can't adequately do fact checking and you don't know the difference between good and bad information it becomes very easy to write something that is full of falsehoods."
In her new book, Brautigam aims to debunk one of those falsehoods, that China's agricultural-aid projects in Africa, including various agricultural-demonstration centers, are part of a long-term master-plan to deal with China's own food deficit.
"Anyone who knows about Africa is going to find it difficult to understand how a continent that has itself to import 10 million tons of rice is going to be able to supply the whole of China," she says.
"It is a food-deficit continent that can't feed itself. The proposition looks a little dicey to me."
Brautigam says she got the idea for the book while spending a year as a visiting fellow at the International Food Policy Research Center in Washington in 2012.
"While I was there someone from the African Development Bank made the proclamation that the Chinese were the biggest land grabbers in Africa. I just knew this was not true because I had written a lot about this area," she says.
"Because such views were recycled and went unchallenged, I felt I just had to write this book."
Brautigam says her aim essentially is to set the record straight in what is a highly readable and engaging account.
"The reality is that most Chinese involvement in agriculture is still largely limited to aid projects such as the 25 or so agricultural-demonstration centers. I don't think these are part of a long-term plan to dominate African agriculture. They are just a part of South-South cooperation."
Brautigam looked at 60 Chinese agricultural projects in Africa and only the leaders of one that was involved in growing rice in Xai-Xai in southern Mozambique said they had any intention of exporting to China in the future.
"Even they said there was no way in hell they would be able to do it now because it was just not cost effective to export rice back to China when it could be sourced from places like Vietnam where the shipping costs were lower," she says.
China imports mainly cocoa, sesame seeds, rubber, cotton and tobacco from Africa but the bulk of its food comes from developed countries like the United States.
"Around 95 percent of the corn imported into China comes from the US and Canada with soya beans coming from Brazil and Argentina."
Brautigam, originally from Madison, Wisconsin, started out as a China expert and spent time studying in Hong Kong and Taiwan.
She then took an interest in Africa and emerged as the doyenne of China-Africa experts when the world's attention was drawn to this new geopolitical relationship at the first Forum on China-Africa Cooperation summit in Beijing 2006, which was a spectacular affair with its processions of people wearing African dress and 9-meter-high posters of giraffes and elephants
Her 2009 book, The Dragon's Gift: The Real Story of China in Africa, was a minor publishing hit.
"It was what they call a crossover book. It sold in bookstores and to regular people as well as academics," she says.
She denies she has practically invented her specialist subject, insisting there were a number of important earlier writers on China's political links with independence movements Africa from the 1950s.
"There were some wonderful people before me such as George Yu (another US academic) who wrote about the Tanzam railway (the China-built track that links Tanzania and Zambia) back in the 1970s."