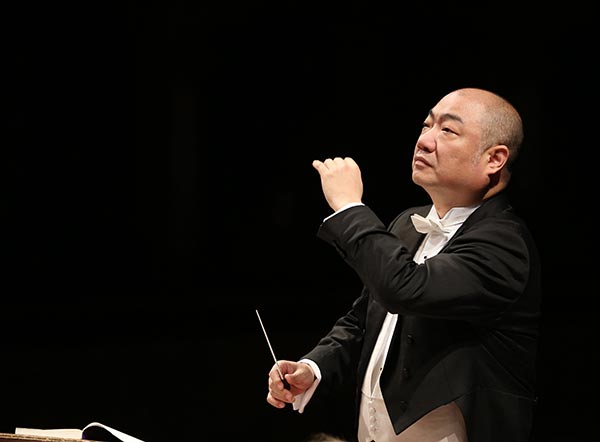 Pianist-turned-conductor Xu Zhong is one of the few Chinese musicians recognized by global audiences. [Photo provided to China Daily]
Music lovers in China may know him as a pianist, but Xu Zhong will be taking on a new role as the principal conductor of the Fondazione Arena di Verona in January.
This is a breakthrough for Xu, as well as musicians from China, says Rudolf Tang, a music critic and founder of Klassikom, an online news center about classical music.
The post had been vacant for many years before the board of the Fondazione decided to hire Xu. In the coming three years, Xu is expected to conduct at least one opera production during the open-air Verona Arena Festival and two concerts/operas in the season at the residential Teatro Filarmonico.
Fondazione Arena di Verona runs the annual Verona Arena Festival and the Teatro Filarmonico. The festival takes place every summer in the Arena di Verona, an ancient Roman amphitheater capable of holding 30,000 spectators. It's one of the most celebrated opera festivals in Europe, attracting tourists from all over the world.
Francesco Girondini, superintendent of the Fondazione, says he's been aware of Xu since 2012, when he became the artistic director and chief conductor of the Teatro Massimo Bellini in Italy as well as of Israel's Haifa Symphony Orchestra.
"We have kept a close watch on him and are glad that he landed in Italy after a very successful career as both a concert pianist and conductor. We invited him to conduct our orchestra several times. He was loved by the orchestra members and the audience," Girondini says. "He is a man of profound charisma and musicianship."
Xu says he's honored to accept this offer.
"I look forward to closer and more frequent collaboration between the house and its Asian counterparts. Opera is quickly becoming China's newfound love."
By taking the position, Xu hopes to encourage more Chinese visitors to the opera festival.
The appointment is one more demonstration of Chinese musicians' rise on the international stage, says music critic Tang, adding that a growing number of Chinese musicians have been winning at international competitions.
Xu says it's not unusual for pianists to evolve into conductors. Some have achieved world fame, such as Mikhail Pletnev, Vladimir Ashkenazy and Daniel Barenboim.
Xu was born in Shanghai in 1968. His parents were doctors, and they loved classical music. He started to learn to play the piano at age 3.
During the "cultural revolution" (1966-76), classical music was forbidden. Xu recalls how his parents "had to use a duvet to cover windows and doors to minimize the sound" when he practiced at home.
He studied at the secondary school affiliated to the Shanghai Conservatory of Music. In 1986, with support from the Chow Ching Lie Foundation, he went to study at the Conservatoire National Superieur de Musique de Paris.
After winning several international competitions, Xu participated in the Tchaikovsky competition in 1994 and finished in fourth place, fulfilling his childhood dream as well as the expectation of his father.
Competing with fellow pianists helped him to see how good he was, and he pursued and won scholarships to further his studies abroad.
Later he served on the jury of some international piano competitions. In 2001, he founded the Shanghai Youth Piano Competition. Since then he has served as the artistic director.
Today a number of Chinese pianists are active on the international stage, and they make the news every now and then. Li Yundi, for example, has left his duty as a judge for the International Chopin Piano Competition to participate in the wedding of a movie star and pop idol in China.
That was a bad decision, Xu says, but he adds that the Chopin competition organizers were to be blamed as well.
"They should not have tolerated the unjustified absence of the judge-that will only undermine the prestige of the event."
Another Chinese star, Lang Lang, has had success that Xu says could not be copied.
"There will be pianists who play better, but it's unlikely any one of them can achieve such commercial success as Lang Lang has."
It takes discipline and hard work to remain on top as a soloist, Xu explains. Successful pianists, such as Lang and Wang Yujia, spend up to eight hours every day practicing before giving a recital.
While he is an artistically mature pianist, Xu has taken to conducting and administrative work. He is a member of the Shanghai Grand Theater Arts Group artistic committee and vice-president of the Shanghai Oriental Art Center arts committee.
As a conductor, he has worked with Orchestre National de France, Orchestre National de Lille, Orchestra de Cannes and Moscow State Symphony Orchestra.
These have always been learning opportunities, Xu says.
Sometimes pianists-turned-conductors are criticized for the lack of clarity and accuracy in their gestures. Xu has a "secret" to make it work.
A tenor he worked with used to say that singing under his baton "never felt tiring". It was because Xu made sure the orchestra's playing allowed the singer to breathe properly, and make full use of the singer's voice.
Xu says: "When you play for the opera, you need to make the music apt and well-fitted for the singer-so comfortable that it feels like velvet."