At the opening ceremony of the ongoing New Delhi World Book Fair, which features China as the guest of honor, writer Liu Zhenyun talks about one of his American fans.
Some English-language books on China or written by Chinese to be released this year. (Photo Source: China Daily)
The woman told Liu that she gets different pictures of China from watching CNN and BBC as compared to reading his works, say, the Cell Phone.
"One picture is weird, and one is with people just like us," the author says, quoting his fan.
Meanwhile, publishers are continuing to churn out more Chinese stories for English-language readers.
In the past year, President Xi Jinping's The Governance of China and sci-fi writer Liu Cixin's The Three Body Problem trilogy have been big hits.
Facebook's Mark Zuckerberg is reading Liu Cixin's book and recommended it to his book club in October, saying: "It's a Chinese sci-fi work that has become so popular that there is now a Hollywood movie being made, based on it."
But as interest in Chinese fiction rises, there is also growing interest in up-to-date works on Chinese social and political issues.
Huo Xingchen, director of international cooperation at the Central Compilation & Translation Press, tells China Daily: "The Chinese economy is an area that global readers will continue to be interested in, and works on Chinese politics and foreign relations have begun to become trendy, including on ideas like the Chinese Dream and the Belt and Road Initiative."
Here are the details on some of the new English-language books on China or written by Chinese that domestic publishers will bring out in 2016.
Some English-language books on China or written by Chinese to be released this year. (Photo Source: China Daily)
Literature
Eric Abrahamsen, editor of Pathlight magazine and the man behind Paper Republic, the agency that promotes Chinese literature worldwide, says publishers are looking for Chinese stories with best-seller potential, or ones with idiosyncratic voices, or by controversial writers.
As for literary classics, China Intercontinental Press is inviting masters of Chinese literature and the arts to introduce ancient and contemporary masterpieces.
Foreign Language Press plans to launch a series for beginners and young readers that introduce classics through picture books.
Penguin Random House North Asia's Beijing office says it will promote Yan Lianke's Marrow to a wider readership.
The story is about a mother and her "cursed" family in a small village in the Balou Mountains. "A chilling and relentless tale of family responsibility and a mother's sacrifice, Marrow is Yan Lianke at his best," writes Penguin.
Abrahamsen says his agency has been releasing annual lists of untranslated Chinese fiction worth translating. "By now many of the books have already been translated, so we're now asking readers to send in titles that they think are worth doing," he says.
Some English-language books on China or written by Chinese to be released this year. (Photo Source: China Daily)
Culture
Foreign Language Press is set to produce illustrated works on acupuncture, Peking Opera and Chinese tea.
Penguin also hopes to boost interest in the Great Wall through The Great Wall in 50 Objects by William Lindesay. Penguin says reading the book is like an "excavation" because it is based on the author's field work and research, combing through history and Western anecdotes of the Wall from the second century BC to the late 20th century.
Another Penguin special examines how music composer Beethoven left a mark on Chinese society. Beethoven in China, co-authored by famed conductor Jindong Cai and Sheila Melvin, a Chinese culture expert, talks about how the composer's perseverance in the face of adversity and his musical genius resonated with China's process of searching for a way forward.
Leaders
At the ongoing New Delhi book festival, the Foreign Language Press is promoting President Xi's Up and Out of Poverty. It is a selection of speeches by him while he served in Fujian province from 1988 to 1990.
Foreign Language Press, also the publisher of the well-received book The Governance of China, says it will soon release a new book on Xi from the point of the power of his language. Separately, the Central Compilation & Translation Press will release a translation of Xi's selected remarks and essays on his anti-graft campaign.
With regard to former leaders, Foreign Language Press will put out a detailed version on Deng Xiaoping's 1979 visit to the United States.
As the 40th anniversary of Mao Zedong's death approaches, many new titles on him can be expected. Notable among them is expected to be Peking University professor Han Yuhai's book on Mao and his life stories. The book is specially designed to appeal to both younger and foreign readers. The book is said to be highly readable, and follows one on Karl Marx by the same author.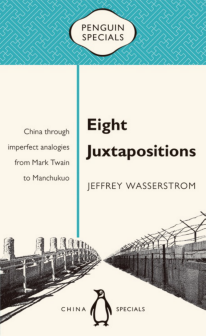 Some English-language books on China or written by Chinese to be released this year. (Photo Source: China Daily)
Society
Huo says readers outside China who seek more books explaining Chinese politics, foreign relations, economics and reform can expect more, works specially by authoritative voices.
China Intercontinental Press has invited professionals and experts from Latin America to spell out their views on China and its rise, as they launch a series in both English and Spanish.
Another interesting work is Penguin's Eight Juxtapositions by Jeffrey Wasserstrom, a China scholar and commentator. In his work, Wasserstrom "challenges conventional commentary on China through eight experimental analogies, finding fresh and surprising ways to look at the Asian superpower".
And for authoritative and updated reports on Chinese policies, Foreign Language Press will produce a series covering topics like the "Four Comprehensives", the rule of law, the Belt and Road Initiative and the Chinese Dream.